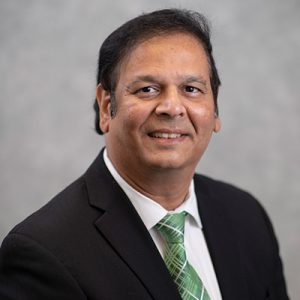 Anand Paluri
Biography
Anand (Andy) Paluri, a licensed professional engineer with over 33 years of experience in planning, design and construction supervision of infrastructure projects throughout the world, has joined the Middlesex College Board of Trustees.
Paluri is Vice President and Area Manager of WSP USA Inc., one of the world's leading design engineering professional services firms. He oversees operations of the firm's three offices in New Jersey. He provides overall leadership and is responsible for business development, client management, mentoring, and project management.
Paluri has led several projects including the U.S. 22 and Chimney Rock Road Interchange, Airport System Capacity Planning Study, the Widening of the NJ Turnpike between Interchanges 6 to 9, Garden State Parkway Interchanges 9, 10 and 11 Improvements, the Pulaski Skyway Rehabilitation, and the U.S. 1&9 and I-278 Interchange Ramps Project, and the Extension of the Hudson-Bergen Light Rail to Route 440, among others.
Paluri is a leader in his field. He was Past President and member of the Executive Board of the Institute of Transportation Engineering, Chair of the Legislative and Policy Committee of the American Council of Engineering Companies, and he is a member of the American Society of Civil Engineers, Intelligent Transportation Systems America, American Consulting Engineers Council (ACEC), the North American Traffic Monitoring Council, Association of Pedestrian and Bicycle Professionals, the New Jersey Alliance for Action, and the Middlesex County Transportation Coordination Council.
He is also very active in the community, serving as a member of the Monroe Township Board of Education, the Monroe Township Planning Board, and as a founding member of the India-USA Forum of Monroe Township.
He is the recipient of the ACEC-NJ Membership Recognition Award in 2018, the Excellence in Management Award in 2016, and the Community Leader Award from Jewish Family Services of Middlesex County.
Paluri holds a Bachelor's Degree in Civil Engineering from Andhra University and a Master of Science Degree in Transportation Systems Engineering from Clarkson University.
"Middlesex College is the shining star of community colleges in New Jersey," he said. "The opportunity to contribute to the College so it can maintain that level of excellence and become even better is very appealing to me."